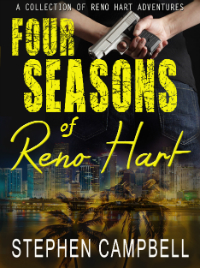 Format: Kindle Edition Verified Purchase
Stephen Campbell is well on his way to becoming a major voice in Florida mystery fiction with the release of Four Seasons of Reno Hart. With a crisp writing style reminiscent of Dashiell Hammett, Campbell has created an interesting new character in the Private Eye genre of hard-boiled mystery. Once I started reading this collection of short stories I had trouble putting it down. Reno is a former MP turned PI and is trying to rebuild her life in Miami after the tragic death of her husband. She is a red-headed sassy and smart character that will leave you wanting more. I look forward to the full -length Reno Hart novel that is coming later this year according to the author. Buy this one and I guarantee that you won't be disappointed!
Format: Kindle Edition Verified Purchase
I have a new favorite PI. Reno Hart is a smart, likeable, kick-ass investigator who is also human and retains a natural femininity. Stephen Campbell is a vivid new voice in crime fiction. Four seasons of Reno contains tightly plotted stories with enough depth of character to make for a highly satisfying read. Campbell's style is easy to fall into and does not call attention to itself. My only complaint is that I have to wait for Campbell's first full length Reno Hart adventure. Note: I received an ARC of this book
Captivating novella with mystery, great character development, and which is ultimately well-written.
,February 9, 2014
By Ginger D. Harman "Ginger Dawn Harman"Amazon Verified Purchase(What's this?)
This review is from: Gone Tomorrow (Kindle Edition)
Gone Tomorrow
By Stephen R. Campbell
A Book Review by Ginger Dawn Harman
I purchased Gone Tomorrow by Stephen Campbell after reading a post on his Facebook page. I follow his radio show in which he interviews authors and I was rather intrigued to read the he has published his first short story. It takes a huge amount of bravery and what may be a triumphed sense of accomplishment when having your first work go public. Therefore, to establish one's reading audience is critical. Stephen Campbell writes a captivating novella with mystery, great character development, and which is ultimately well-written.
The Novella begins with Jack and Jessica Stillwell of Naples, Florida who have just discovered the body of neighbor Carmine Santori after returning from an early morning beach run. The reader is immediately engrossed into the plot as Carmine, a son of Italian immigrants, who earned a PhD in engineering from Stanford University and gone to work for Intel has been murdered. With accusations of adultery, questionable business relationships, and financial power the reader will not be disappointed. Gone Tomorrow is written in the third person omniscient point of view. The major themes are power and money. Stephen Campbell uses the interpersonal relationships and character actions to revealed and develop these themes. Character delineations are well developed over time as the story unfolds. I was particularly fond of the relationship between Jack and Jessica. For example, "Jack knew he'd hit the marriage lottery with Jessica." This emotional element not only creates an endearing quality toward Jack but will have most female readers falling in love with him. Furthermore, one becomes instantly connected with the wry wit of Jessica as she confronts Mrs. Santori by stating, "I can assure you, if your husband were having sex with me he would have neither the need, nor the desire for other women."
With a PG-13 sexual rating, Gone Tomorrow gives just enough detail to the reader with making the novella distasteful. Stephen Campbell uses "emotional qualities" for his writing style. The use of humor, wit, and satire will satisfy readers from late teen to older adults. The tone and setting do not impinge on the characters or plot but rather enhance the experience for the reader. One of the many virtuous attributes of the novel, is the warm and tender friendship Jack and Jessica establish with detective Sampson which remains intact even after they go their separate ways. In addition, I was rather pleased with the book cover. The red fingerprint silhouette of the gun underneath the Florida image evokes mystery and yellow lettering delivers a cautious feeling. Campbell has created a witty, quick read, well-suited to those who enjoy an entertaining, well-managed mystery. I highly recommend Gone Tomorrow by Stephen Campbell.
 5.0 out of 5 stars 
Gone Tomorrow — Read Today
 February 25, 2014
Format:Kindle Edition|Amazon Verified Purchase
Jack and Jessica Stillwell are a Nick and Nora Charles for the 21st Century. And, in fact, Stephen Campbell's "Gone Tomorrow" reads like it's the launching pad for a series featuring these two engaging characters.
But instead of living the elegant NYC lifestyle of Nick and Nora, Jack and Jessica are closer to John D. MacDonald's famous detective Travis McGee. They live at the (mostly) warm Florida shore and their lifestyle is the lifestyle of boaters and beach people.
The story kicks off when Jack and Jessica return from their morning run to find a dead body just steps from their house. A naked, two hundred and fifty pound man who had been their neighbor. If that's not an invitation to investigation what is? And, of course, complications ensue.
There's some good lines too. Talking about trust fund families, the narrator says "They thought their money made them smart." Having run into people like that in real life, that line struck home. At another point in the story, Jessica favors someone with "one of her B plus smiles." Good description.
"Gone Tomorrow" is a good story and a fun read that shows potential for the author.