How is your To Be Read list looking? Is it anything like mine? Does it have 4 to 5 times the number of books on it than you'll ever be able to read? Too many books, too little time, right? There are far worse problems to have in life.
January was a tough month for my TBR list. I didn't get nearly as much reading done as I normally do, and some health challenges with my mother kept me focused on books that were more entertaining than thrilling.
I found myself starting and not finishing a number of books in January. Some just weren't that good, but a number of them just weren't right at the time, so they stay on the TBR list.
In the past, I took great pride in finishing the books I started, but as my TBR list expanded I was forced to reset my expectations. As one author friend told me, life's too short to read books that don't keep you turning the pages.
Among the books I finished in January, these are my favorites:
SILENCE IS GOLDEN - (Pet Psychic Mystery #3) by Shannon Esposito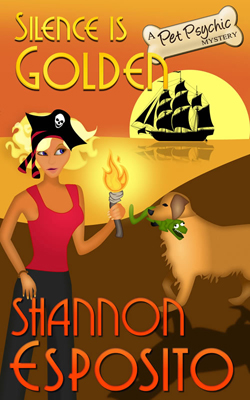 I had the opportunity to meet the charming Shannon Esposito at Sleuthfest last year. Her books aren't the type I normally read, but when I saw the first in her Pet Psychic Series (KARMA'S A BITCH) on sale in early December I snapped it up.
The series takes place in sun-drenched St. Petersburgh, Florida, and features Pet Psychic, Darwin Winters, her business, Darwin's Pet Boutique and a cast of characters that are richly developed and very entertaining.
These are light-hearted, fun stories and SILENCE IS GOLDEN, the third, and most recent in the series, was every bit as enjoyable as the first two. I think I'm a little bit in love with Darwin and desperately want to shop in her boutique. Highly recommended for those who enjoy sun-splashed cozy mysteries.
LAST SHOT (Dev Haskell series #6) by Mike Faricy
TING-A-LING (Dev Haskell series #7) by Mike Faricy
I came to this series through a free short story by Mike Faricy in November. I read the short story, loved it, and dove into the Dev Haskell mysteries beginning with book one.
Imagine Jim Rockford, in Minnesota, with a drinking problem, and you may get a sense of Dev Haskell. He's a private eye with a heart (sort of) and his own (somewhat warped) sense of honor and duty.  It must also be said he's not the sharpest tool in the drawer.
These books are like potato chips, they're good, they're easy to consume, and as soon as you finish one you want to have another. Reading these books won't make you a better person, but they will keep you entertained. I'm really enjoying the series.
The REALLY BIG KA-BOOM (January - Alfred Hitchcock Mystery Magazine) A Spade/Paladin Conundrum by Kristine Kathryn Rusch
I love short mysteries and subscribe to both Alfred Hitchcock's Mystery Magazine and Ellery Queen's Mystery Magazine so I'll have access some of the best in the genre.
Kristine Kathryn Rusch is a prolific writer who turns out some wonderful short fiction. The Spade/Paladin series features an elfin female detective and her sidekick, a lovable, overweight geek, who retired early from Microsoft and now spends his time pursuing his passion for science fiction conventions. He worships the ground Spade walks on, and the relationship between the two is priceless.
If you like short mysteries I highly recommend this series, the first five of which have been packaged by the author as THE EARLY CONUNDRUMS: A Spade/Paladin Collection.
HERCULE POIROT: The Complete Short Stories by Agatha Christie
This incredible collection contains all of Agatha Christie's short stories featuring Hercule Poirot.
I came to these stories far later in life than I should have, after getting hooked on the PBS series featuring the dapper, mustache-twirling Belgian detective.  The collection contains over 50 bite sized Hercule Poirot mysteries. Now, if only someone would do the same for the Nero Wolfe short stories.
DEAD ANYWAY (Arthur Cathcart Mystery) by Chris Knopf
I'm a big fan of Chris Knopf's writing, especially the Sam Acquillo series. DEAD ANYWAY is the first book of a new series with an interesting twist. The protagonist, Arthur Cathcart, and his wife are shot early in the book. Arthur's wife is killed, but Arthur survives, recovers.  That's where things get interesting.
Arthur decides to remain dead and to create several new identities for himself so he can uncover the reason for his wife's murder and exact his revenge.
DEAD ANYWAY is a marvelous story packed with interesting technical details as Authur goes about recreating himself and solving the crime.
RICH BITCH by Nicole Lapin
I read a galley of this book to prepare for an interview with Nicole Lapin. (The interview goes live on February 24th) It's a non-fiction book of financial advice targeted to women between 25 - 40.
RICH BITCH is one of the best personal finance books I've read in years, rivaling my all time favorite, The Only Investment Guide You'll Ever Need. (Written by Andrew Tobias, way back in 1978.)
Unlike most of the dry, detail-filled books that populate the personal finance genre, Nicole's book is written in plain English, using language and anecdotes that will appeal to younger women.
So how about you?  What have you read lately that you've loved? Anything to recommend?  Let us know in the comments.
Standard Buzzkill disclaimer - The links to specific books on Amazon.com are affiliate links. If you purchase the books after clicking the links I will earn a small commission, but you will pay nothing more for the books.